Cooling Jars

When you remove hot jars from a canner, do not retighten their jar lids. Retightening of hot lids may cut through the gasket and cause seal failures. Cool the jars at room temperature for 12 to 24 hours. Jars may be cooled on racks or towels to minimize heat damage to counters. The food level and liquid volume of raw-packed jars will be noticeably lower after cooling. Air is exhausted during processing and food shrinks. If a jar loses excessive liquid during processing, do not open it to add more liquid. Check for sealed lids as described below.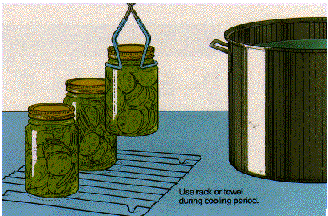 Testing Jar Seals

After cooling jars for 12 to 24 hours, remove the screw bands and test seals with one of the following options:
Option 1. Press the middle of the lid with a finger or thumb. If the lid springs up when you release your finger, the lid is unsealed.
Option 2. Tap the lid with the bottom of a teaspoon. If it makes a dull sound, the lid is not sealed. If food is in contact with the underside of the lid, it will also cause a dull sound. If the jar is sealed correctly, it will make a ringing, high-pitched sound.
Option 3. Hold the jar at eye level and look across the lid. The lid should be concave (curved down slightly in the center). If center of the lid is either flat or bulging, it may not be sealed.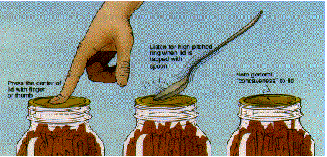 Reprocessing Unsealed Jars

If a lid fails to seal on a jar, remove the lid and check the jar-sealing surface for tiny nicks. If necessary, change the jar, add a new, properly prepared lid, and reprocess within 24 hours using the same processing time. Headspace in unsealed jars may be adjusted to 1-1/2 inches and jars could be frozen instead of reprocessed. Foods in single unsealed jars could be stored in the refrigerator and consumed within several days.

Storing Canned Foods
If lids are tightly vacuum sealed on cooled jars, remove screw bands, wash the lid and jar to remove food residue; then rinse and dry jars. Label and date the jars and store them in a clean, cool, dark, dry place. Do not store jars above 95 F or near hot pipes, a range, a furnace, in an uninsulated attic, or in direct sunlight. Under these conditions, food will lose quality in a few 1-22 weeks or months and may spoil. Dampness may corrode metal lids, break seals, and allow recontamination and spoilage. Accidental freezing of canned foods will not cause spoilage unless jars become unsealed and recontaminated. However, freezing and thawing may soften food. If jars must be stored where they may freeze, wrap them in newspapers, place them in heavy cartons, and cover with more newspapers and blankets.

NEXT